Ubiquiti Unifi UAP-Pro Wifi Amplifier
Ubiquiti Unifi UAP-Pro Wifi Amplifier
Ubiquiti Unifi UAP-Pro Wifi Amplifier
Product Description
Ubiquiti Unifi UAP-Pro - Wireless Access Point
Forget about all the upsetting issues you have certainly already faced regarding your wireless connection, and step into the safest and fastest connection you've ever had thanks to the Ubiquiti Unifi UAP Pro access point. It allows everyone in the house to get simultaneously a dual-band Wi-fi connection meaning than it will work exactly as if everyone had its own CPE.
Take the control of your wireless connection
The first aim of this smart object is definitely to provide a high-quality connection to all your devices in your home, at work or even outside. With a range of more than 400 feet and a capacity to connect with more than 500 devices, the potential of the Unifi UAP Pro access point is unlimited. You can also choose all the parameters of your internet connection and get information about your networks through the dedicated software included. You will now control 100% of the settings, and be able to regulate the access to your wireless connection in a very simple way.
Boost your security and your performances
Once made the configuration and setting of your access point thanks to the LED system, just let it work on its own and increase up 5 times the speed of your Wi-fi connection. You can integrate it on your wall or a ceiling surface so that you will forget how much it is boosting your connection at any time. The Ubiquiti Unifi UAP Pro access point is definitely the tool that should be integrated in every smart home of the 21st century.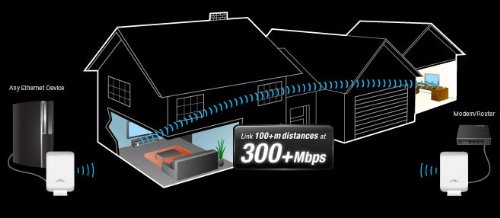 Main features
Rapid deployment

Highly durable and efficient

Sleek industrial design

400 ft range

+450 Mbit/s
What's In The Box
Specs
Customers also viewed