8 Best Security Cameras to Protect your Home
The busy world with a fast-growing crime rate has made security cameras for homes a necessity.
A high-quality camera will benefit you in a variety of ways whether you use it at home or at the office. Installing a good high-grade camera
is a worthwhile investment in the long run that you will not regret about.
Looking for the best security cameras? No worries, you are at the right place. We at Wellbots, have curated a list of the 8 best security cameras to protect your home so that you can choose one from them.
With the Arlo Pro4 Wireless Security Camera Kit, you can build a complete defensive system around your house. Everything you need to keep your security system operational at all times is included in this full package, which also includes a camera and its movable mount, a rechargeable battery, and a magnetic charging connection.
The high-end security camera Pro 4 boasts a simple setup and clever Wi-Fi connectivity. Zoom in on every little detail, including license plates, faces, and occasionally-appearing stray animals, when watching or playing films in full HD.
It includes a special two-way audio system that mimics a doorbell and responds to visitors before you even open the door. With a few flicks of the built-in spotlight, keep intruders at bay. If that is ineffective, scare the intruders away with a siren that is activated by your device. Arlo Pro4 cameras eliminate the typical fish-eye effect of conventional cameras by painting larger-than-life pictures with a 160° diagonal angle.
A professional-quality security camera, the Arlo Pro 4 is ideal for both indoor and outdoor use!
A clever, self-contained security robot that can patrol your home and record footage is the EBO SE Smart Moving Home Security Camera by Enabot. This intelligent robot features a dual-band Wi-Fi connection and an integrated 1080p camera for taking both still and moving pictures. It has night vision, two-way audio built in, obstacle avoidance, built-in microphones, and speakers, and it can go back to its dock to recharge. The Ebo app for iOS and Android makes remote management feasible.
Through the Ebo SE Pet Camera, your family members will be able to play with your children and pets, allowing for uninterrupted and long-distance engagement. It supports multiple users and constantly engages your children and dogs with their eyes, motions, and sounds that replicate real-life play. With the capacity to modify its voice and actions in response to its surroundings, it is definitely worth the buy.
The Ebo goes back to its dock automatically when needed to be charged. It can identify a variety of impediments in front of it using cutting-edge ToF technology and can stop to prevent accidents. Auto-Cruise & Fixed-Point video recording enables it to roam the home anytime, anywhere.
There is no cloud storage for Ebo but all data can be stored on your expandable SD card. All camera images are solely live-streamed, and users can decide whether or not to keep the data. The user-friendly app supports both iPhone and Android smartphones. The Ebo app has a tonne of editing tools and social features to make it easy for you to share your memories with your friends and family.
One of the best quality and unique home-use cameras, the Ebo SE is a smart, self-guided robot that can patrol your home to capture video and still images.
A feature-packed security camera, the SPYCLOPS is a small but powerful camera that can capture video up to 8MP at 30 fps, for a crisp, clear picture, even in low light or dark conditions. The most recent technology is used in the CMOS sensor to deliver color night vision with higher image quality and better clarity in low light. Smart IR LEDs will automatically change the IR LED brightness in fully dark conditions to prevent a washed-out image and offer superior clarity for objects at varying distances.
The color night vision will work especially well in areas with ambient lighting, such as a suburban street or warehouse alley. The clever IR LEDs can take pictures up to 25 meters (82 ft) away in completely dark places with no light sources, like a hut in the woods. The camera's H.265+ video compression lowers bandwidth and storage requirements without compromising video quality, and an integrated microphone records audio. The cameras are compatible with all Spyclops ProTM Series XVRs and NVRs, which come with a free app for remote viewing.
Available in a low mini-bullet style, the SPYCLOPS is one of the elegant and sleek outdoor cameras available on the market.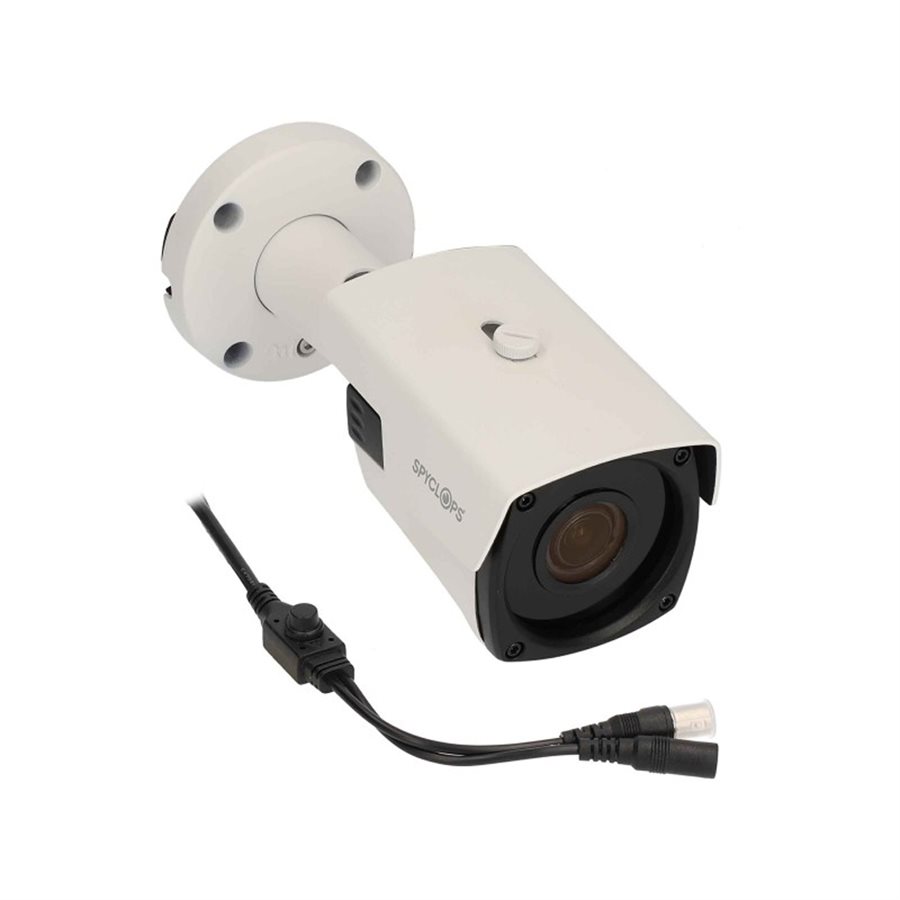 A sleek and petite camera, the Amaryllo biometric security camera uses modern technology in its revolutionary home surveillance system to safeguard your residence from trespassers, burglars, and even fire. Amaryllo Petite separates people, animals, and vehicles using biometric technology. The technology will only alert you through push notification if there is a genuine threat to your property.
Pet recognition is one of the features that is included to keep your fur buddies safe. When you're not at home, you can still communicate with your four-legged buddies thanks to real-time two-way communication. Additionally, Petite will automatically change the quality of the live streaming video based on the bandwidth available. Amaryllis cameras use the greatest level of security protection as well, with 256-bit military-grade encryption to safeguard your data.
Arlo, a pioneer in home security systems, offers you a unique camera set that guards your house, plays your messages, relays your responses, shows what's occurring in your near vicinity, and scares off attackers. Install a 4K HDR 24-hour vigil over your house and the area around it, with quick notifications that keep you informed of any individuals, vehicles, or errant movements.
Every nook and corner of your property is perfectly covered by the 180-degree wider angle lens. Its integrated auto-correction removes fisheye distortion, providing a clean image even at night. With the help of the built-in spotlight or siren, you may scare away intruders. With a 3-month free Arlo Secure Trial, the VMS5240-200NAS package takes your home security to the next level.
This app comes in helpful in unforeseen circumstances because it allows you to call a friend or notify emergency personnel for backup action from anywhere. The Arlo Ultra 2 set includes a Smart Hub, a necessary foundation that connects your camera to the current home router for real-time updates.
A smart floodlight camera ideal to keep a tab on your home's exterior at night, the EUFY Outdoor Floodlight Camera detects motion events and also lights up your property with bright LED lights.
This Eufy security camera records 1080P video of your property day or night and has an HD camera and a super-bright 2500-lumen light. Even better, it gives you the choice to easily live stream HD videos from your smartphone, giving you security around the clock. It uses a white IP65 weatherproof enclosure to weather it from the harsh climate.
When the camera detects motion or is recording an incident, the LED blinks white; when it is idle but still operating, it remains solid white; and when something sets off the alarm, it rapidly flashes red. To connect to your home network, a 2.4 GHz Wi-Fi radio and a 100dB siren are included in the assembly.
Speedy smart alerts and good lighting are what make up the Google Nest camera. It includes a built-in battery backup in case the power goes out, intelligent motion sensing to prevent floodlights from turning on every time a moth flies by, and on-device processing that results in speedier alerts.
The Google Nest is magnetically attached to two high-powered 2,400 lumen-producing, motion-sensing lights. With the usual camera specs of 080p HD video with night vision, a 130-degree diagonal field of view, two-way audio, IP54 weather resistance, and a built-in battery, it has built-in software that can tell the difference between a person, a vehicle, and an animal.
Other features include mobile notifications, remote control, video streaming, and video recording. You may view your Nest Cam live stream on the Nest Hub display thanks to the integration of Nest Cam and Nest Hub. Simply ask your Google Assistant-enabled smart display or speaker to switch on the floodlight. 
With the Ring Stick Up cam Plug-in, a motion-activated camera that can be viewed from anywhere, you can get round-the-clock security. It only takes a few minutes to install, and plugging it into any outlet makes charging a breeze. For adaptability, it may be safely installed on a wall or a flat surface.
You can check in on your home whenever you want and from anywhere with the Stick Up Cam Plug-In. When motion is detected, it sends notifications to your phone and tablet. You may continuously monitor your house using the Live View button, which gives real-time audio and video in 1080p HD.