Description
Capraia - Triple Temp Zones - Dual Zone 30" Wine Cooler with two refrigerator drawers
With a frost-free, free-standing design, this refrigerator has anti-fingerprint stainless steel, and a large glass pane door for precise temperature control.
This Capraia - Triple Temp Zones - Dual Zone 30" Wine Cooler with two refrigerator drawers will always keep your bottles chilled and party ready, allowing you to store 144 bottles and 200 cans easily. You have many different possibilities for storing beverages thanks to the double-drawer design, and the Blue LED Interior Lighting that provides a high high-end appearance to it.
SPECIFICATIONS 
Shipping Weight : 169.798kg 
Net Weight : 169.798kg 
Package Length : 79.5020cm 
Package Width : 74.4220cm 
Package Height : 206.5274cm
WHAT'S IN THE BOX 
1 x Product 
1 x Guide 
*Attention* Minimum Advertisable Price (MAP)  $3699
This is a brand-approved dropshipping product. As part of JD Sourcing's agreement with the brand, no merchants may sell the product for lower than the MAP. This keeps profit margins healthy for merchants!
Orders for products sold for a retail price below the MAP will not be shipped out, and JD Sourcing reserves the right to delist products from stores that do not comply with MAP policies.
UPC:686136966061
More pictures here: 
https://bit.ly/3mLXBK2
After Sales Policy
Forno provides professional white glove delivery for all appliance deliveries.
Before Delivery:
The carrier will contact the customer to schedule a delivery appointment. Appointment confirmation will be sent to the customer and merchant by email

The carrier will call in advance and deliver at the scheduled appointment time. If the scheduled appointment delivery is unsuccessful, a fee of $250 will be charged for the second delivery attempt

Once product is shipped and tracking number provided, order cancelation will result in a refund minus a 25% restocking fee

If the rare instance that a product is delivered damaged, customer should refuse delivery. In this case, the customer will receive a replacement product free of charge
After Delivery:
Returns after delivery is accepted are not supported

Products covered by 2 year limited warranty, see link for full details: 

 

https://bit.ly/3K00VKW

Customers are responsible for installation

For warranty requests, customers should contact 

mysupport@forno.ca

To buy accessories or for replacement parts after the warranty period, customers should contact 

mypart@forno.ca
COOLING ZONES: Triple Zone • 16.25 Cubic Feet Capacity • Sliding Metal Shelves • R600a Refrigerant • Cyclopentane Foaming Agent
TEMPERATURE RANGES: 46º- 55ºF Upper Compartment • 55º- 64ºF Upper Drawer Compartment • 33º- 46ºF Lower Drawer Compartment
FEATURES: Touch-Screen Control Panel • Intelligent Thermostat Control • Safety Lock • Front Wooden Trim Shelves • High-Efficiency Compressor • Auto Defrost
INCLUDES: Adjustable Display Rack • Power Cord • Installation Kit
The Capraia Beverage Center features an upper wine cooler that can hold up to 144 bottles and 2 lower drawers that can hold up to 200 cans. The unit also features 8 wine racks, blue LED interior lights and electronic control. This triple zone wine refrigerator offers a frost free, free-standing design with anti-fingerprint Stainless Steel and a thick glass pane door for precise temperature control. The double drawer design brings you versatile beverage storage options and LED interior lighting offers a premium look.
Offering a stunning stainless steel finish while providing a superb storage of 144 wine bottles and 200 beverage cans, this is a triple temperature zone wine cellar. Available for both your home or commercial setting as a built-in appliance, the FWCDR6661-30S has irresistible style along with form and function.
The FWCDR6661-30S has a luxurious and modern vibe showing off a large solid glass door with a thick stainless steel door trim and black interior. Provided is a triple-zone cooling system – for fulfilling separate chilling temperatures. This will allow you to be able to freshen and conserve red or white wine bottles and their temperature requirements between 40° F to 55° F in the upper zone and 55° F to 65° F in the lower zone. The refrigerator drawers offer a temperature range between 33° F to 46° F.
With a wide 30 inch base, the FWCDR6661-30S includes two large storage drawers underneath the wine bottle racks. This will enable you to also store food and beverage cans within the same appliance. There is a factory-installed lock for safety and carefully crafted metal rack shelving for flexibility to fit up to 144 standard wine bottles.
The FWCDR6661-30S is ideal for the home or commercial setting. For those seeking full capacity and decisive wine storage that appears in private home locations, found in bars, along with wineries or restaurants looking to store their collection. – 144/200 Bottles-Cans
Instrction Manual:https://fornoappliances.com/wp-content/uploads/2022/05/FWCDR6661-30-Catalog-Sheet.pdf
Specifications:https://fornoappliances.com/wp-content/uploads/2022/05/FWCDR6661-30S-User-Manual.pdf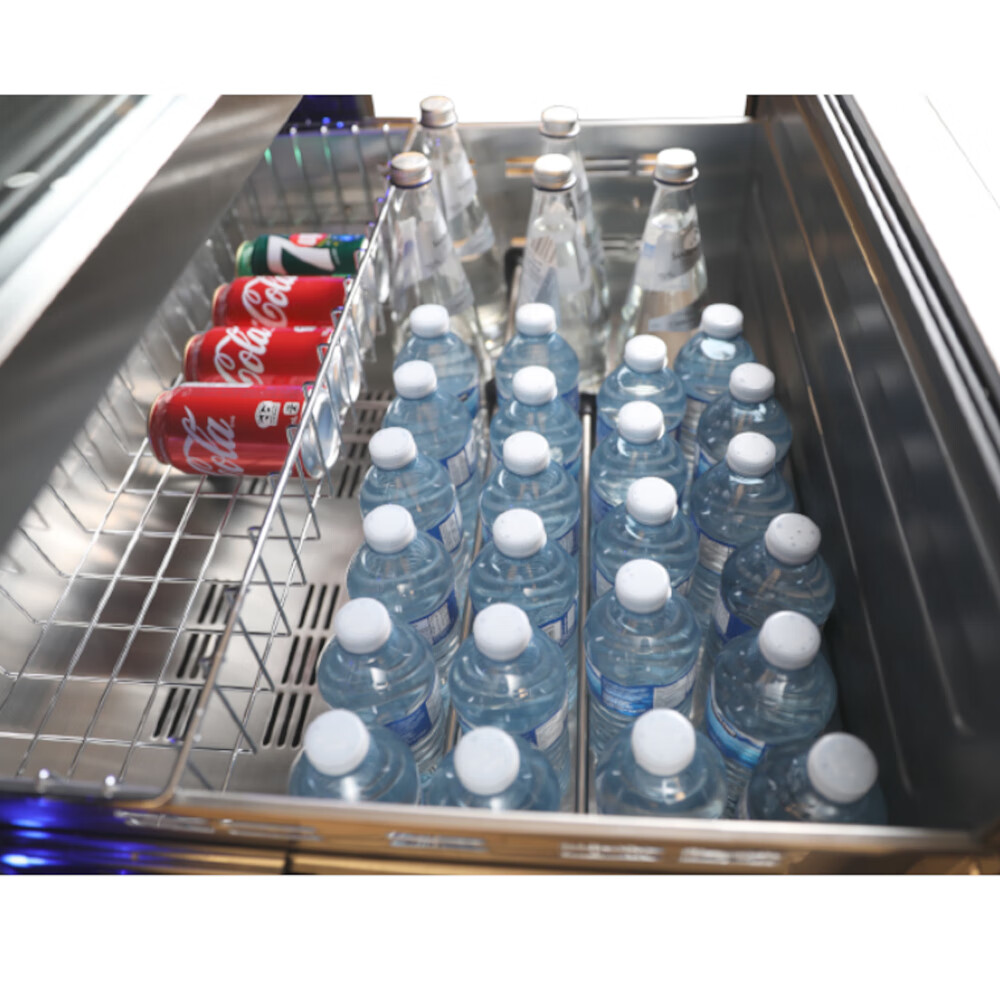 Payment & Security
Payment methods
Your payment information is processed securely. We do not store credit card details nor have access to your credit card information.
---
Security