Description
DreameBot L10s Ultra Robot Vacuum Clean Station
The DreameBot L10s Ultra Robot Vacuum Clean Station is your futuristic housekeeping companion! Revolutionize the way you clean with this advanced robotic vacuum that not only cleans your floors meticulously but also empties its own dustbin for a truly hands-free experience.
The DreameBot L10s is a powerhouse in terms of suction power. Equipped with a mighty 5300 Pa of suction, it effortlessly captures every last speck of dust, pet hair, and debris from your floors, including those hard-to-reach corners and edges. Dust bunnies won't stand a chance!
Fully automated home cleaning is now a reality thanks to the automatic dust collection, mop cleaning and drying, water refilling, solution addition, quick mapping, and path planning of this robot vacuum cleaner. Hair, Dirt, Dust, and other particles have nowhere to go, thanks to cutting-edge technology and an innovative brush design that collects fine particles and allows for easy hair removal. It automatically empties the robot's dust box and vacuums it into 3L dust bags. The system uses our proprietary dual boost 2.0 for high speed emptying, low noise, and almost no clogging.
The dual rotary mop of the L10s spins at a whopping 180RPM to give your floors a deep clean. Plus, it automatically adds the right amount of water and solution to your robot to make your floors sparkle all over your house.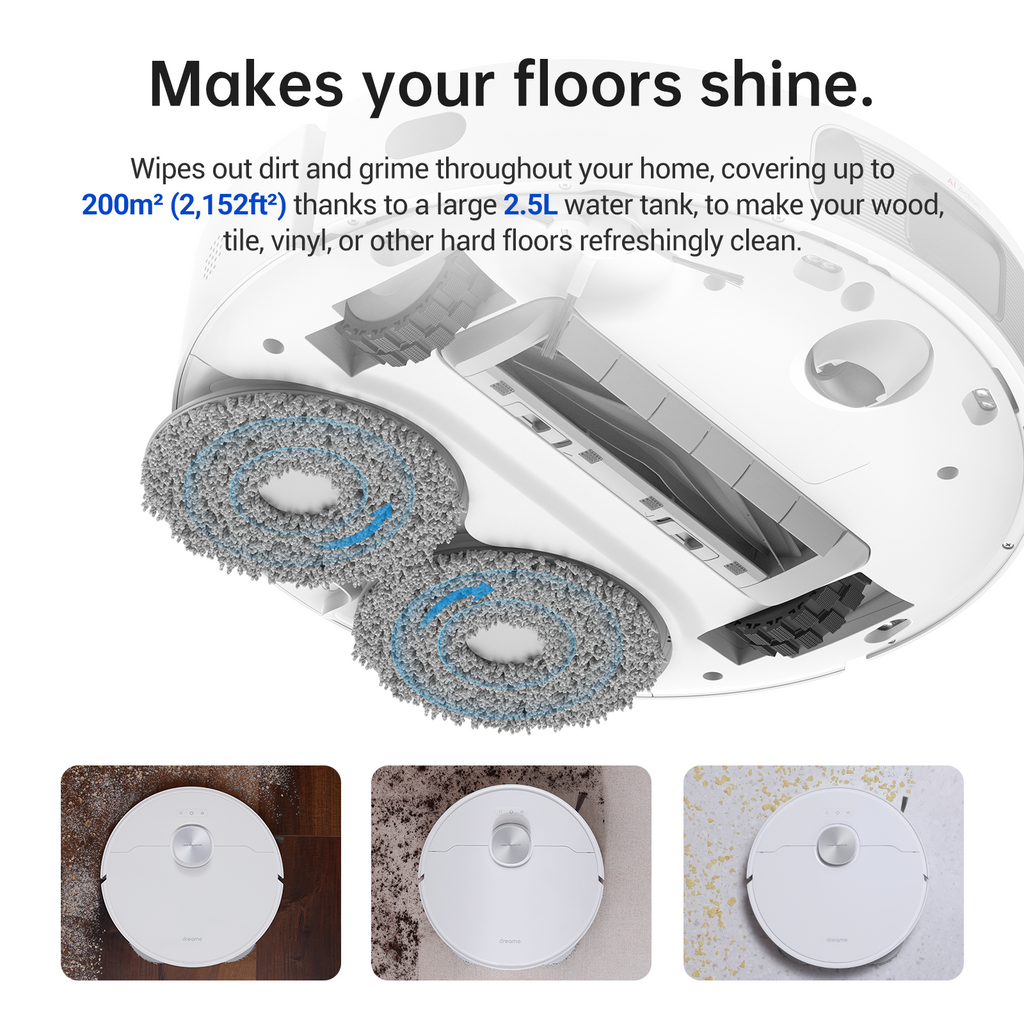 Equipped with cutting-edge AI technology, the DreameBot L10s adapts and learns the layout of your home, efficiently mapping out the most effective cleaning path. The AI Action is equipped with an RGB camera and a 3D structured light, allowing it to quickly learn your home, customize cleaning solutions, and automatically create paths based on obstacles, floors, and rooms. Clean faster with fast mapping that creates a 3D mapping of your home.
The L10s can be controlled with the touch of a button or with a voice command as it is synced with the Google Home or Amazon Alexa for voice activated convenience! The accompanying mobile app enables users to plan cleaning sessions, personalize the cleaning mode and track the robot's activity from any location.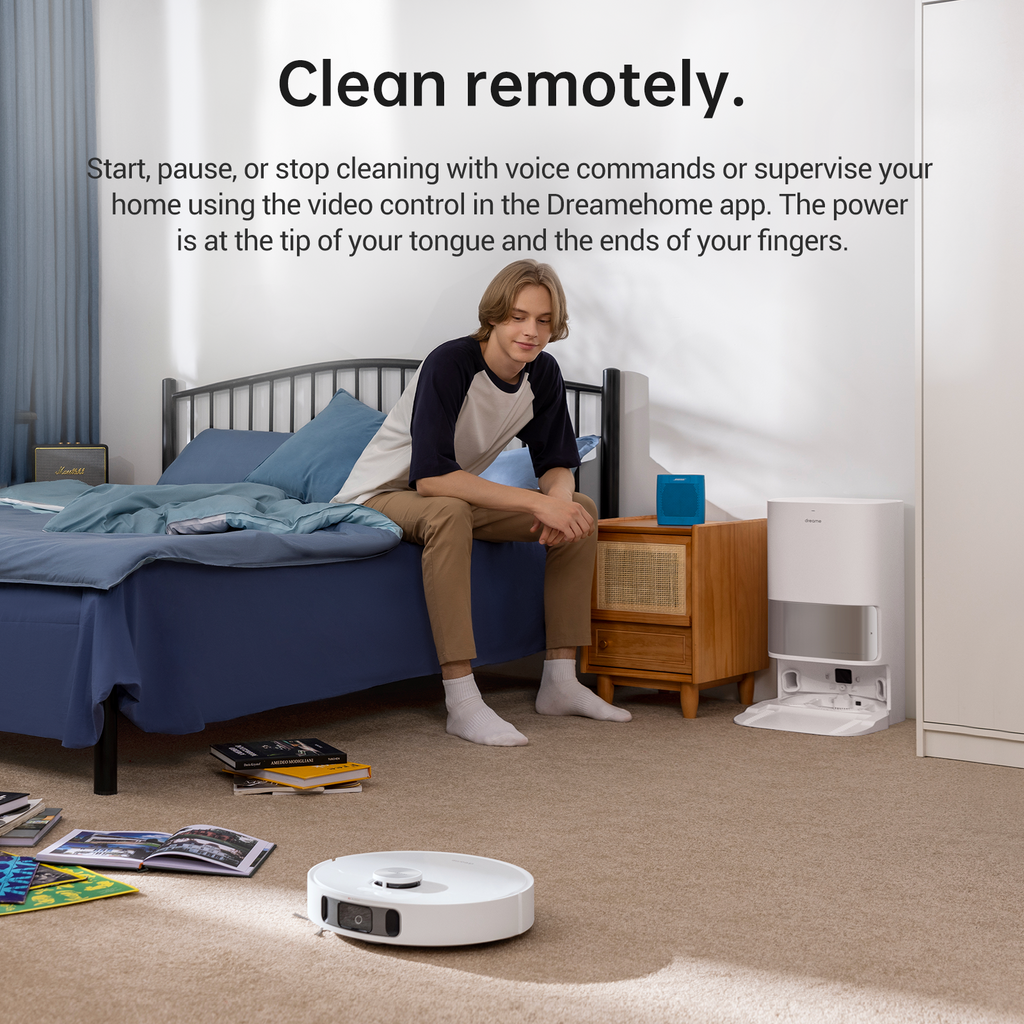 Welcome to the new era of cleanliness, where cleanliness has never been so easy to achieve with the DreameBot L10s Ultra Robot Vacuum Clean Station.

Fully automated cleaning
Cleans smarter with advanced AI Action that utilizes RGB camera and 3D structured light
Vacuums deeply with 5,300Pa of powerful suction
Delivers up to 60 days of hands-free cleaning
Automatic carpet detection, suction boost, and a robust rubber brush
5300Pa strong suction, dual rotary mops
App control, voice assistant and remote video control
Automatic dust collection, mop-cleaning and -drying, water-refilling, solution-adding 
SPECIFICATIONS:
Product Name: DreameBot L10s Ultra Robot Vacuum Clean Station
Robot Vacuum
Dimensions: 13 x 13 x 3 in
Weight: 8.1 lbs.
Battery Capacity: 5200mAh
Dust Box Volume: 350mL
Water Tank Volume: 80mL
Maximum Suction: 5300Pa
Lowest Noise: 29 dBA
Base Station
Dimensions: 16 x 13 x 22 in
Weight: 19.6 lbs.
Dust Bag Volume: 3L
Clean Water Tank: 2.5L
Used Water Tank: 2.4L
Threshold Crossing: 2cm (0.78 in)
Maximum Run Time: 210 mins (Only Vacuuming in Quiet Mode); 160 mins (Vacuuming & Mopping in Quiet Mode)
WHAT'S IN THE BOX:
1 x DreameBot L10s Ultra Robot Vacuum Clean Station
1 x Base Station
1 x Cleaning Brush
2 x Mop pad (Pre-installed)
2 x Mop Pad Holder
1 x Side Brush
1 x Dust Collection Bag (Replacement)
1 x Power Cord
1 x Multi-surface Floor Cleaner
1 x User Manual
Payment & Security
Payment methods
Your payment information is processed securely. We do not store credit card details nor have access to your credit card information.
---
Security