Description
Garmin Descent G1 Solar Dive Computer and Smartwatch
A rugged smartwatch aimed at divers, the Descent G1 Solar is an intuitive, watch-sized dive computer, with trim and slim built.
With a manageable screen size of 45 mm and made up of more impact-resistant fiber reinforced polymer, the Descent G1 Solar is available in two versions: solar-powered and non-solar. The timepieces come in four different color schemes (Black, Hurricane Blue, Powder Gray, and Slate Gray) and provide customers with a selection of diving settings.
The Descent G1 offers a rechargeable battery with up to 25 hours in dive mode, up to 3 weeks in smartwatch mode, and up to 4 months in smartwatch mode with the solar charging models. The wearable's touch-sensitive 176-by-176-pixel MIP dial is designed for underwater use and is rated to function up to 100m underwater, but it also has a number of features that make it a good day-to-day watch.
Descent G1 Series provides support for single and multiple gas dives (including air, nitrox, trimix, and 100 percent O2), gauge, apnea, apnea hunt, and closed-circuit rebreather for beginning recreational divers through seasoned technical divers. A 3-axis digital compass and vibration depth alarms are also included in the G1 Series. Divers can see depth, dive time, temperature, NDL/TTS, ascent/descent rates, gas mix, PO2, N2 loading, decompression/safety stop information, and time of day on their wrists, all of which are adjustable to the user's preferences. In apnea modes, freedivers will have the option of customizing their dive and surface screens, as well as other information like ascension and descent rates to compare performance between dives.
Using multi-GNSS satellite support, the Descent G1 will automatically record surface entry and exit sites in the water and store them in the associated Garmin DiveTM app2, allowing divers to readily access a complete analysis of each dive activity, including maximum depth and bottom time. Configure settings on the Descent G1 Series with the Garmin Dive App, or plan your next trip by browsing popular places that have been rated and reviewed by other people. Users can also track their activity above water with the Garmin Descent G1.
The Descent G1 Series includes a number of health features, such as advanced sleep monitoring with sleep score and a selection of built-in indoor and GPS sports apps, including swimming, hiking, jogging, cycling, golf, yoga, and surfing. Surfers may view a visual representation of tidal information, wave height, wind, and surf quality rating right on their wrist thanks to the integrated Surfline Widget.
With Garmin's entire array of advanced fitness features including VO2 Max, Fitness Age, Training Status, Recovery Time, HIIT Workouts, and Daily Suggested Workouts, the G1 Series will track and measure performance.
The Descent G1 has a compass, temperature, and gyroscope, among other sensors. When coupled with an iPhone or an Android phone, the wearable also allows users to make calls from their wrists, and also helps in finding your lost phone. The Garmin Pay feature in the device allows for contactless payments.
The new Garmin Descent G1 Solar is a tough dive computer with a variety of smartwatch options that lift it beyond the sea!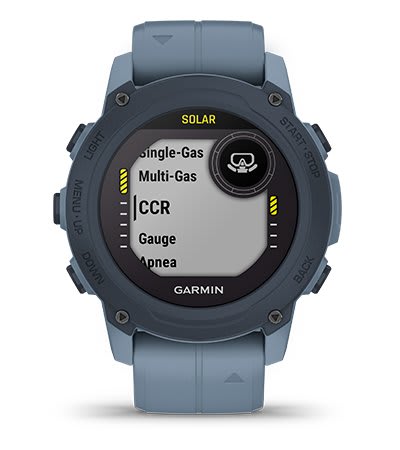 DIVE MODES
Get multiple dive modes for single and multiple gas dives (including nitrox and trimix), gauge, apnea, apnea hunt and closed-circuit rebreather.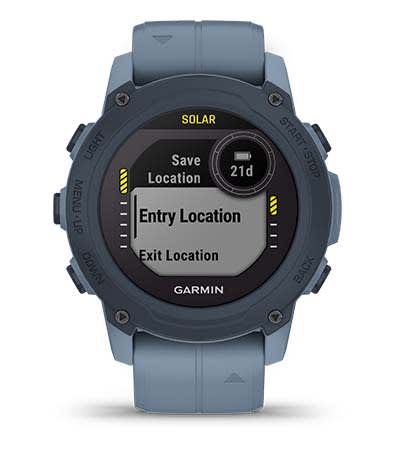 SURFACE MULTI-GNSS
Track your entry and exit points4 with advanced satellite connectivity.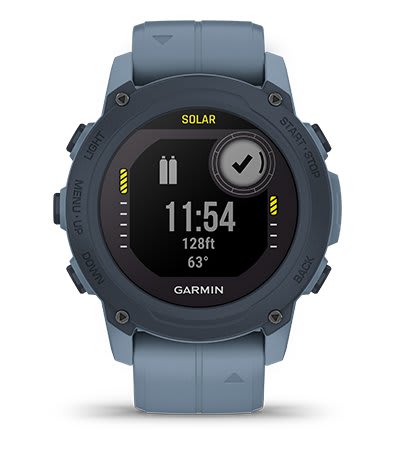 DIVE LOG
Store and review data for up to 200 dives — and share via the Garmin Dive app1.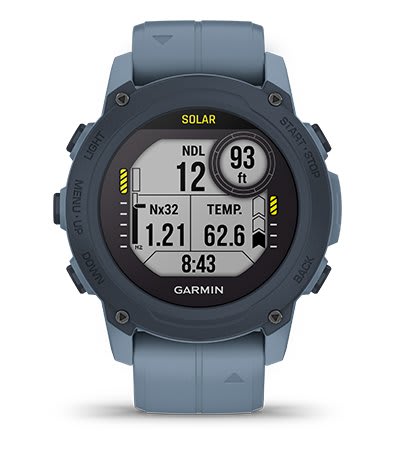 CUSTOMIZABLE DIVE MODES
Add additional screens for each dive mode that features the fields you want to see.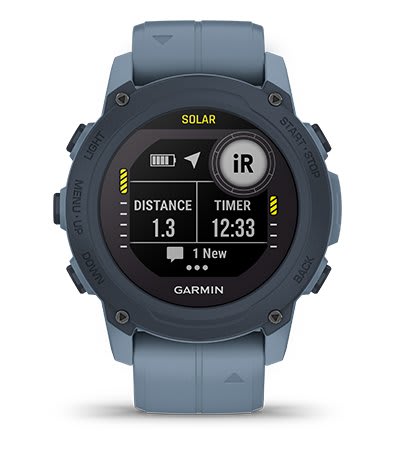 COMPATIBLE WITH INREACH®
Pair with inReach satellite communicators4 and the inReach dive case (each sold separately).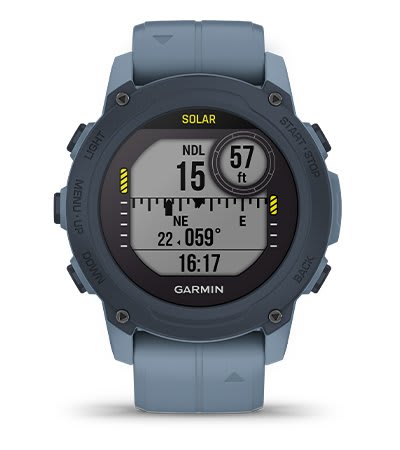 DIVE COMPASS
Easily navigate below the waterline with the built-in 3-axis compass.
TIDE DATA
Stay up to date on ocean conditions so you can catch the perfect wave. Just pair the watch with your compatible smartphone.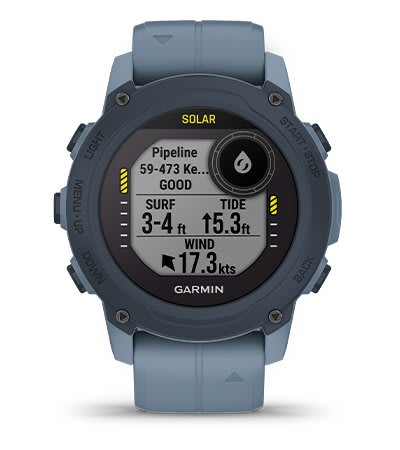 SURFLINE®
See conditions — such as tide, wave height, wind and surf rating — for each of the five nearest surf spots, when paired with the Garmin Connect™ app on your compatible smartphone.
Rugged dive computer smartwatch

Available in solar and non-solar model

A rechargeable battery with up to 25 hours in dive mode, up to 3 weeks in smartwatch mode, and up to 4 months in smartwatch mode with the solar charging models

Features an easy-to-read, high-contrast display and 45mm watch case

176-by-176-pixel MIP dial is designed for underwater use

Water rated to 10 ATM

Available in multiple color options 

Compatible with Garmin QuickFit® bands

Mark surface entry and exit points via GPS

Support for multiple dive modes, gauge, apnea, apnea hunt, and closed-circuit rebreather

The Garmin Dive™ app allows you to save up to 200 dives, upload, share, and review them.

More than 30 built-in sports apps and advanced training features to track your activities

Compatible with Inreach®
Built-in 3-axis compass
When coupled with the Garmin ConnectTM app on your compatible smartphone, see conditions for each of the five closest surf places, including tide, wave height, wind, and surf rating
Preloaded sports app, fitness age determiner, recovery time after each workout, training status, daily suggested workouts, sleep and respiration monitoring, body energy monitoring, hydration tracking, women's health monitoring, wrist-based heart rate, smart notifications, safety and tracking features, Garmin pay™ contactless payments, connect IQ™ store, and a lot more features
Customizable accessory bands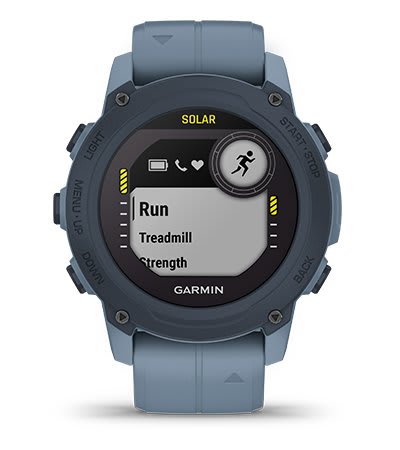 SPORTS APPS
Use preloaded activity profiles for trail running, swimming, running, biking, hiking, rowing, skiing, golfing and more.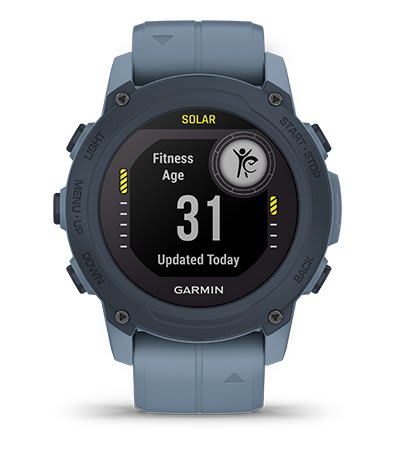 FITNESS AGE
This feature uses chronological age, your weekly vigorous activity and resting heart rate to estimate if your body is younger or older than you are. And you can get tips to lower your fitness age.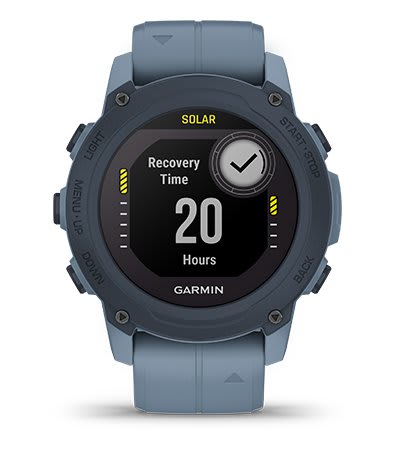 RECOVERY TIME
After each workout, recovery time lets you know when you'll be ready for another hard workout. It even accounts for training intensity and factors such as stress, daily activity and sleep.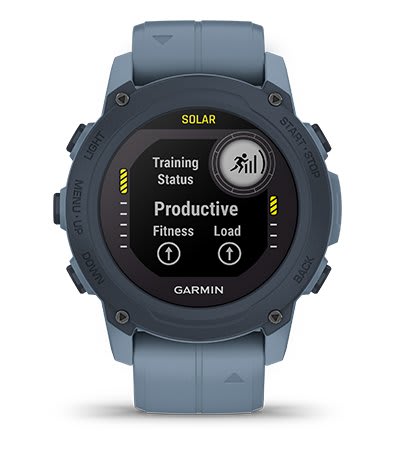 TRAINING STATUS
This metric evaluates your recent exercise history and performance indicators to let you know if you're training productively, peaking or overreaching.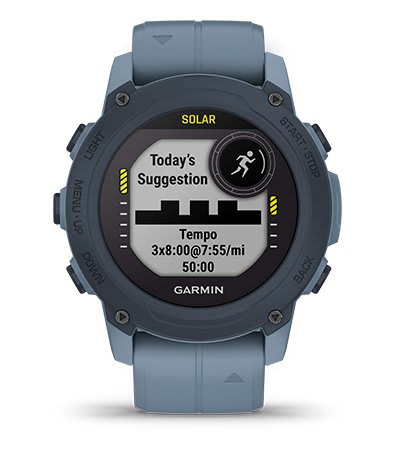 DAILY SUGGESTED WORKOUTS
For training guidance that takes you and your fitness level into account, get daily run suggestions based on your current training load and status.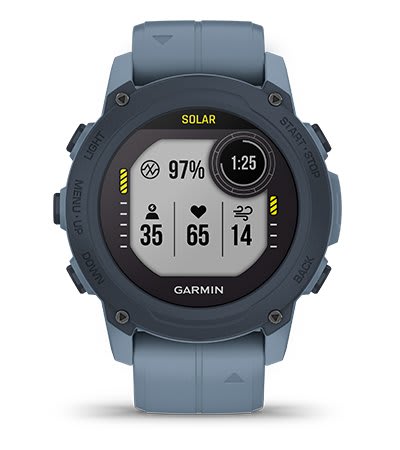 ALL-DAY RESPIRATION
Track how you're breathing throughout the day, during sleep, and during breathwork.
SPECIFICATIONS:
General:
Lens Material: Power Sapphire
Bezel Material: Fiber-reinforced Polymer
Case Material: Fiber-reinforced Polymer
QuickFit™ Watch Band Compatible: Yes (22 mm)
Strap Material: Silicone
Physical Size: 45.5 x 45.5 x 15.2 mm; Silicone Band: 128-224 mm; Extra Long Silicone Band: 128-373 mm
Display Size: Custom, two-window design: 0.9" x 0.9" (23 x 23 mm)
Display Resolution: 176 x 176 pixels
Display Type: Monochrome, Sunlight-visible, Transflective Memory-in-Pixel (MIP)
Weight: 66 g
Battery life: Dive Mode: Up to 25 hours
                   Smartwatch: Up to 21 days/4 months with solar *
                   Battery Saver Watch Mode: Up to 48 days/Unlimited with solar*
                   GPS: Up to 26 hours/39 hours with solar **
                   Max Battery GPS Mode: Up to 56 hours/205 hours with solar**
                   Expedition GPS Activity: Up to 27 days/Unlimited with solar*
*Solar charging, assuming all-day wear with 3 hours per day outside in 50,000 lux conditions
**Solar charging, assuming use in 50,000 lux conditions
Water Rating: Dive (100 meters)
Memory/History: 32 MB
Clock Features:
Time/date: Yes
GPS Time Sync: Yes
Automatic Daylight Saving Time: Yes
Alarm Clock: Yes
Timer: Yes
Stopwatch: Yes
Sunrise/sunset Times: Yes
Health Monitoring:
Wrist-based Heart Rate (Constant, Every Second): Yes
Daily Resting Heart Rate: Yes
Abnormal Heart Rate Alerts: Yes (high and low)
Respiration rate (24x7): Yes
Pulse Ox Blood Oxygen Saturation: Yes (spot-check, during sleep, all day)
Fitness Age: Yes
Body Battery™ Energy Monitor: Yes
All-day Stress Tracking: Yes
Relaxation Breathing Timer: Yes
Sleep: Yes
Sleep Score and Insights: Yes
Hydration: Yes (in Garmin Connect™)
Menstrual Cycle: Yes (in Garmin Connect™)
Health Snapshot: Yes
Sensors:
GPS: Yes
GLONASS: Yes
Galileo: Yes
Garmin Elevate™ Wrist Heart Rate Monitor: Yes
Barometric Altimeter: Yes
Compass: Yes
Gyroscope: Yes
Accelerometer: Yes
Thermometer: Yes
Depth Sensor: Yes
Pulse Ox Blood Oxygen Saturation Monitor: Yes (with Acclimation)
Daily Smart Features:
Connectivity: Bluetooth®, ANT+®
Connect IQ™ (Downloadable Watch Faces, Data Fields, Widgets and Apps): Yes
Smart Notifications: Yes
Text Response/Reject Phone Call with Text (Android™ only): Yes
Calendar: Yes
Weather: Yes
Battery Saver- Customizable Low Power Watch: Yes
Controls Smartphone Music: Yes
Music Storage: Yes
Find My Phone: Yes
Find My Watch: Yes
VIRB® Remote: Yes
Smartphone Compatibility: iPhone®, Android™
Pairs with Garmin Golf app: Yes
Pairs with Garmin Connect™ Mobile: Yes
Garmin Pay™: Yes
Safety & Tracking Features:
LiveTrack: Yes
Incident Detection during Select Activities: Yes
Assistance: Yes
Tactical Features:
Dual Grid Coordinates: Yes
Diving Features:
Dive Activity Maximum Operating Depth: 100 m
Single-gas Mode: Yes
Gauge Mode: Yes
APNEA Mode: Yes
APNEA Hunt Mode: Yes
Decompression Model: Bühlmann ZHL-16c with Gradient Factors
Nitrox Support: Yes
Trimix Support: Yes
Closed Circuit Rebreather (CCR): Yes
Gas Mixes: Air, Nitrox, and Trimix, up to 100% O2; 1 bottom gas and up to 11 deco and/or backup gasses
PO2: Up to 2.0 with Customizable Deco PO2 Setting
Auto start/end Dive: Yes
Custom End-dive Timeout: Yes (20s to 10 m)
Safety Stop: Yes (Customizable off/3min/5min)
Deep Stops: Yes (Using Custom Gradient Factors)
Customizable Conservatism: Yes (low/medium/high or custom using gradient factors)
Dive Ascent/Descent Rate Indicator: Yes
Automatic Altitude Adjustment: Yes
No Fly Time: Yes
Dive Planner: Yes (Basic NDL + Multi-gas Deco Planner)
Tides: Yes
Backlight: Yes (configurable time and intensity; auto-on at depth)
Automatically Saves Dive Entry and Exit Locations: Yes
Custom Dive Data Screens: Yes
Sync Dive Log to Garmin Dive™ Mobile app: Yes
Alerts & Alarms: Audible and vibration alarms for ascent rate, PO2, CNS/OTU, NDL, deco, and gas switching. Customizable (up to 40) audible and/or vibration per dive mode, based on depth or time.
3-axis Dive Compass: Yes (with an adjustable heading, a quick change to 90R, 90L and reciprocal). Indicates degrees and direction back to set heading.
Missed Deco Lockout: Yes (can be disabled prior to dive with user acknowledgment)
Residual Tissue Loading Reset: Yes (on the surface with user acknowledgment)
Surface Diver Status Widget: Yes (surface interval, N2/HE loading, CNS, OTU, and tissue compartment status.
Boating Features:
Built-in Barometer & Tide Tables: Yes
Activity Tracking Features:
Step Counter: Yes
Move Bar (Displays on Device after a Period of Inactivity; Walk for a Couple of Minutes to Reset It): Yes
Auto Goal (Learns your Activity Level and Assigns a Daily Step Goal): Yes
Calories Burned: Yes
Floors Climbed: Yes
Distance Traveled: Yes
Intensity Minutes: Yes
TRUEUP™: Yes
MOVE IQ™: Yes
Garmin Connect™ Challenges App: Yes
Gym & Fitness Equipment:
Available Gym Activity Profiles: Strength, HIIT, Cardio and Elliptical Training, Stair Stepping, Floor Climbing, Indoor Rowing, Yoga
Cardio Workouts: Yes
Strength Workouts: Yes
HIIT Workouts: Yes
Automatic REP Counting: Yes
Training, Planning & Analysis Features:
HR Zones: Yes
HR Alerts: Yes
HR Calories: Yes
% HR Max: Yes
% HRR: Yes
Recovery Time: Yes
Auto Max HR: Yes
HR Broadcast (broadcasts HR data over ANT+™ to paired devices): Yes (using ANT+)
Respiration Rate (during exercise): Yes
GPS Speed & Distance: Yes
Customizable Data Pages: Yes
Customizable Activity Profiles: Yes
AUTO PAUSE®: Yes
Interval Training: Yes
Advanced Workouts: Yes
Downloadable Training Plans: Yes
Power Modes- Customizable in-activity battery setting: Yes
AUTOLAP®: Yes
Manual Lap: Yes
Configurable Lap Alerts: Yes
Heat & Altitude Acclimation: Yes
VO2 Max (Run): Yes
VO2 Max (Trail Run): Yes
Training Status: Yes
Training Load: Yes
Training Effect: Yes
Training Effect (Anaerobic): Yes
Primary Benefit (Training Effect Labels): Yes
Improved Recovery Time: Yes
Daily Suggested Workouts: Yes
Custom Alerts: Yes
Audio Prompts: Yes
Finish Time: Yes
Race an Activity: Yes
Manual Multisport Activities: Yes
Course Guidance: Yes
Touch And/Or Button Lock: Yes
Hot Keys: Yes
Auto Scroll: Yes
Activity History on Watch: Yes
PHYSIO TRUEUP: Yes
Running Features:
Available Profiles: Running, Treadmill Running, Indoor Track Running, Trail Running
Running Dynamics: Yes (with compatible accessory)
Vertical Oscillation & Ratio: Yes (with compatible accessory)
Ground Contact Time & Balance: Yes (with compatible accessory)
Stride Length (Real Time): Yes (with compatible accessory)
Cadence (Provides Real-Time Number of Steps per Minute): Yes
Performance Condition: Yes
Lactate Threshold: Yes (with compatible accessory)
Run Workouts: Yes
Race Predictor: Yes
Foot Pod Capable: Yes
Golfing Features:
Yardage to F/M/B (distance to front, middle and back of green): Yes
Yardage to Layups/Doglegs: Yes
Measures Shot Distance (Calculates Exact Yardage for Shots from Anywhere on Course): Manual
Digital Scorecard: Yes
Stat Tracking (Strokes, Putts per Round, Greens and Fairways Hit): Yes
Auto Courseview Updates: Yes
Green View with Manual Pin Position: Yes
Hazards & Course Targets: Yes
Round Timer/ Odometer: Yes
Tournament Legal: Yes
Outdoor Recreation:
Available Outdoor Recreation Profiles: Hiking, Indoor Climbing, Bouldering, Climbing, Skiing, Snowboarding, Backcountry Skiing, XC Classic Skiing, XC Skate Skiing, Stand Up Paddleboarding, Rowing, Kayaking, Surfing, Hunting, Kiteboarding, Windsurfing, Fishing, Tactical
Point-to-Pont Navigation: Yes
Bread Crumb Trail in Real Time: Yes
Back to Start: Yes
TRACBACK®: Yes
Elevation Profile: Yes
Barometric Trend indicator with Storm Alert: Yes
Vertical Speed: Yes
Total Ascent/Descent: Yes
Future Elevation Plot: Yes
GPS Coordinates: Yes
Sight 'N' Go: Yes
Area Calculation: Yes
Sun & Moon Information: Yes
Expedition GPS Activity: Yes
Tides: Yes
Cycling Features:
Available Cycling Profiles: Biking, Road Biking, Mountain Biking, Gravel Biking, Cyclocross, Bike Commuting, Bike Touring, eBiking, eMountain Biking, Indoor Biking
Alerts (Triggers alarm when you reach goals including time, distance, heart rate or calories): Yes
Courses: Yes
MTB Grit & Flow: Yes
Bike Lap and Lap Maximum Power (With Power Sensor): Yes
Race an Activity: Yes
FTP: Yes
Compatible with Vector™ and Rally™ (Power Meters): Yes
Power Meter Compatible: Yes
Speed & Cadence Sensor Support: Yes
Swimming Features:
Available Swim Profiles: Pool Swimming, Open Water Swimming, Swimming/Running
Open-Water Swim Metrics (Distance, Pace, Stroke Count/Rate, Stroke Distance, Swim Efficiency (Swolf), Calories): Yes
Pool Swim Metrics (Lengths, Distance, Pace, Stroke Count, Swim Efficiency (Swolf), Calories): Yes
Stroke Type Detection (Freestyle, Backstroke, Breaststroke, Butterfly) (Pool Swim Only): Yes
Drill Logging (Pool Swim Only): Yes
Basic Rest Timer (Up From 0) (Pool Swim Only): Yes
"Repeat On" Rest Timer (Pool Swim Only): Yes
Auto Rest (Pool Swim Only): Yes
Time and Distance Alerts: Yes
Countdown Start (Pool Swim Only): Yes
Pool Swim Workouts: Yes
Underwater Wrist-Based Heart Rate: Yes
Heart Rate from External Hrm (Real-Time During Rests, Interval and Session Stats during Rests, And Automatic Heart Rate Download Post-Swim): Yes
Kid Activity Tracking Features:
TOE-TO-TOE™ Challenges APP: Yes (optional Connect IQ Toe-to-Toe™ Challenges app)
Connectivity:
Smart Trainer Control
WHAT'S IN THE BOX:
1 x Descent G1 Solar
1 x Extra-long Adjustment Strap
1 x Charging/data cable
1 x Documentation
Warranty: 2-Years
Payment & Security
Payment methods
Your payment information is processed securely. We do not store credit card details nor have access to your credit card information.
---
Security