Description
Ipevo TOTEM 360 Immersive Conference Camera and Speakerphone
With its four built-in cameras and 4996 x 928 panorama-style video resolution, the IPEVO TOTEM 360 delivers real 360° 5K panoramic video in a portable package. Four built-in microphones, an integrated stand, and accompanying USB-C and power connections combine to provide a plug-and-play camera with high-quality video and audio capture. It's simple to integrate the TOTEM 360 into your current conference room thanks to onboard button controls and compatibility with Windows, macOS, and Chrome OS. 
The entire meeting room is photographed in 360 degrees using four integrated cameras. The technology used in video stitching makes sure there is no spatial distortion in the image. The direction from which sound is coming can be determined by four omnidirectional beamforming microphones. During a hybrid meeting, this can follow active speakers up to 16.4 feet away. To distribute sound uniformly in all directions, the built-in speaker wraps 360 degrees around the TOTEM 360's base.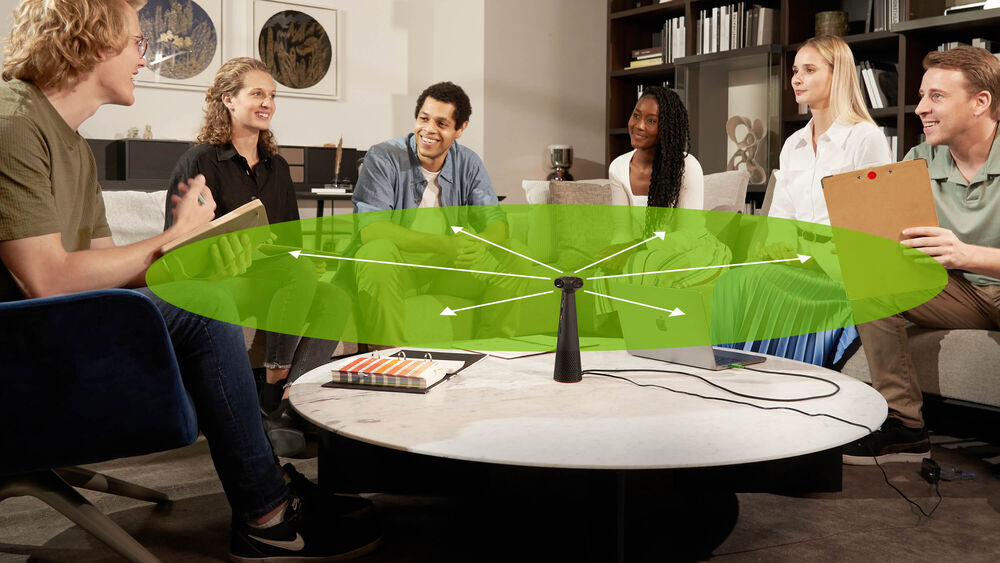 Onboard AI can follow the presenter or other meeting attendees and keep them in focus, ensuring they stay in the frame. Artificial intelligence noise reduction reduces background noise while highlighting participants' vocals for clear conversation. There are four types of immersive video: Presentation mode, surround mode, conferencing mode, and hybrid learning mode. 
The camera comes with a 5.9' long USB-C cable that can be connected to a computer running Windows, macOS, or Chrome OS and a 4.92' DC power cable. The TOTEM 360's integrated stand and 1/4"-20 thread allow you to take it anywhere. There is support for websites like Zoom, Google Meet, Skype, and Microsoft Teams. Using the onboard button controls, you may mute your microphone, adjust the volume, switch between video modes, and turn on and off the camera. The TOTEM 360's top LED indicators let you know which image mode you're currently seeing. 
360° Video
Panoramic 5K resolution
Four video modes
360°Sound diffusion speaker
AI Noise reduction
AI Tracking and framing
Voice detection
Easy portability
Plug and play
SPECIFICATIONS:
Size L x W x H: 2.8″ x 2.8″ x 10″
Weight: 1.27 lbs.
Color: Black
Camera:
Resolution:
Panoramic 5k: 4992 x 928 @ 30FPS
Full HD: 1920 x 1080 @ 30FPS; 1280 x 720 @ 30FPS
Lens type: Fixed focus
Zoom: 2.5X digital zoom
FOV: (HFOV: 360°, VFOV: 60°)
Microphone:
Microphone type: 4 x Omni-directional microphone
Sound pick-up distance: 16.40 ft / 5 m, Range: 360°, S/N Ratio 64 dB (A) 
Speaker: Peak out power 6 W, root mean square 5 W 
Physical Control Buttons: Power button, Video Mode button, Speaker Volume button, Mic mute / unmute 
Compatibility: Mac, Windows PC, or Chromebooks with a USB Type-C port 
Output Connectivity: USB 2.0 Type 
Power Input: DC 12V / 2.0 A (DC plug) 
Power Consumption: 12V / 0.8A 
Operating Temperature: 5°C to 35°C 
Storage Temperature:  -10°C to 50°C 
Operating & Storage Humidity: 10% to 95% 
Warranty: 2 Years 
WHAT'S IN THE BOX:
1 x IPEVO TOTEM 360 
1 x USB Cable length: 5.9 ft / 180 cm 
1 x Power Cable length: 4.92 ft / 150 cm
Payment & Security
Payment methods
Your payment information is processed securely. We do not store credit card details nor have access to your credit card information.
---
Security