Description
iRobot Roomba Combo i5+ Robot Vacuum & Mop
Introducing the Future of Cleaning: iRobot Roomba Combo i5+ Robot Vacuum & Mop
Discover a new dimension of home cleaning with the iRobot Roomba Combo i5+ Robot Vacuum & Mop. This advanced cleaning solution redefines convenience, efficiency, and cleanliness, making it an essential addition to your home. Let's dive in to its main features and benefits:
Effortless Vacuuming and Mopping
 Say goodbye to manual labor. The Roomba Combo i5+ swap and mop - simply insert the Roomba Combo® bin, and the robot converts into a robot vacuum that also mops, vacuuming and mopping as it goes to keep your hard floors clean and dust-free.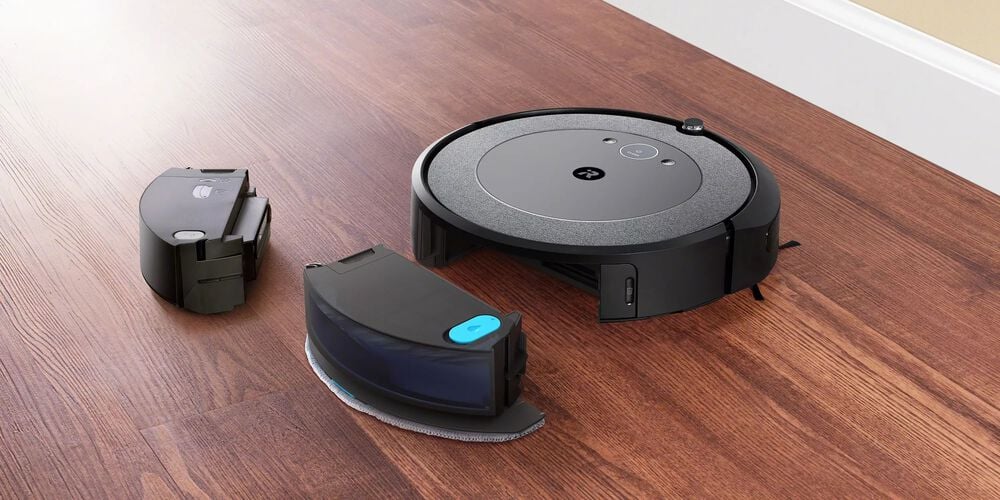 Intelligent Smart Mapping
 Elevate your cleaning game with intelligent navigation. Powered by iAdapt® technology, the i5+ learns your home's layout, navigating each room meticulously for a thorough clean.

Multi-Surface Mastery
 From rugs to tiles, it excels everywhere. The i5+ adapts its cleaning technique based on various surfaces, ensuring each space is thoroughly cleaned. All of this is combined with Power-Lifting Suction to suck in tough dirt and a mop pad to keep your floors extra clean every day.

Persistent Dirt Detection
 No dirt stands a chance. The i5+ uses Dirt Detect™ sensors to identify heavily soiled areas, doubling down on cleaning efforts for a spotless finish.

App-Controlled Convenience
 Enjoy control at your fingertips. Through the iRobot Home app, you can schedule cleanings, monitor progress, and customize preferences from anywhere.

Automatic Dirt Disposal with Clean Base®
 Experience a hands-free revolution. Add the Clean Base, and the i5+ will automatically empty its bin, reducing your involvement to a minimum.

Transform your cleaning routine with the iRobot Roomba Combo i5+ Robot Vacuum & Mop. Elevate your lifestyle with the power of technology, efficiency, and innovation. Make the i5+ your partner in creating a cleaner, more comfortable living space. Choose convenience; choose the Roomba Combo i5+.
Specifications:
Retail box Dimensions (in): 17.4W x 14.4H x 13.9D
Robot Weight (lb): 7
Robot Dimensions (in): 13.4L x 13.5W x 3.6H
Battery Type: Lithium-Ion
Clean Base Weight (lbs): 9.66
What's in the Box:
Roomba Combo™ i5 Robot Vacuum and Mop
Clean Base® Automatic Dirt Disposal
Interchangeable Roomba Combo™ Bin
1 Extra High-Efficiency Filter
1 Microfiber Mopping Pad
2 Dirt Disposal Bags
Line Cord