Description
Packaging
Shipping Weight : 153.128kg
Net Weight : 153.128kg
Package Length : 98.6028cm
Package Width : 78.0034cm
Package Hight : 128.4986cm
Package Description : 1cm
*Attention* Minimum Advertisable Price (MAP)  $5,098.00
This is a brand-approved dropshipping product. As part of JD Sourcing's agreement with the brand, no merchants may sell the product for lower than the MAP. This keeps profit margins healthy for merchants!
Orders for products sold for a retail price below the MAP will not be shipped out, and JD Sourcing reserves the right to delist products from stores that do not comply with MAP policies.
UPC—— FFSGS6260-36WHT:686136 965224
UPC—— FFSGS6260-36BLU:686136 965187
UPC—— FFSGS6260-36RED:686136 965101
UPC—— FFSGS6260-36BLK:686136 965149



After Sales Policy
Forno provides professional white glove delivery for all appliance deliveries.
Before Delivery:
The carrier will contact the customer to schedule a delivery appointment. Appointment confirmation will be sent to the customer and merchant by email

The carrier will call in advance and deliver at the scheduled appointment time. If the scheduled appointment delivery is unsuccessful, a fee of $250 will be charged for the second delivery attempt

Once product is shipped and tracking number provided, order cancelation will result in a refund minus a 25% restocking fee

If the rare instance that a product is delivered damaged, customer should refuse delivery. In this case, the customer will receive a replacement product free of charge
After Delivery:
Returns after delivery is accepted are not supported

Products covered by 2 year limited warranty, see link for full details: 

 

https://bit.ly/3K00VKW

Customers are responsible for installation

For warranty requests, customers should contact 

mysupport@forno.ca

To buy accessories or for replacement parts after the warranty period, customers should contact 

mypart@forno.ca
Specifications
All 304 Stainless Steel

Rotisserie kit

Thermostat, Regulator and Safety Valves

Adjustable Stainless Steel Legs ( from 37.4" to 38.4")

Leg Stainless Steel Square Cover

LP Kit Included

Fuel Type: Natural Gas Converts to LP

Automatic Ignition

6 Italian Defendi Brass Burner

Oven Capacity: 5.36 cu. ft

Oven Power:  Infrared Broil 10,000 BTU, Bottom 22,000 BTU

U Tube Auto-Ignition

120Volt 60Hz  Circuit Breaker 15 Amps
Instruction manual: https://forno.ca/wp-content/uploads/2022/02/6260-EN-G36R04-230800.pdf
Warning and Cooking tips: https://forno.ca/wp-content/uploads/2021/02/Warning-and-Cooking-tips-2.pdf
Features
Black Matte Cast Iron Continuous Burner Grates

Black Enamel Surface Plate for Easy Clean

Illuminated Zinc Cast Knobs

Convection Fan 

Infrared Broil Element with 10,000 BTU

Blue Enameled Oven Interior

Night Light Red LED Automatic Magic Eyes 

Wok Ring
Additional Features
Surface Burners Include Six 20,000 BTU Max and 1,000 Min.

Dual Ring Burners For Maximum Cooking Control 

Auto Flame Re-ignition on Surface Burners

2" Heat Shield and Back Splash

Stainless Steel Side Panels 

3 Glass Layers In Door for Easy View and Quality

2 Halogen Oven Lights

FORNO Easy Clean Pro-Style Handle

Lower Stainless Decorative Panel

3 Telescopic Easy Pull Oven Racks

Oven Heat Gasket Mounted on Oven Frame 

2 Year Factory Parts and Labor Warranty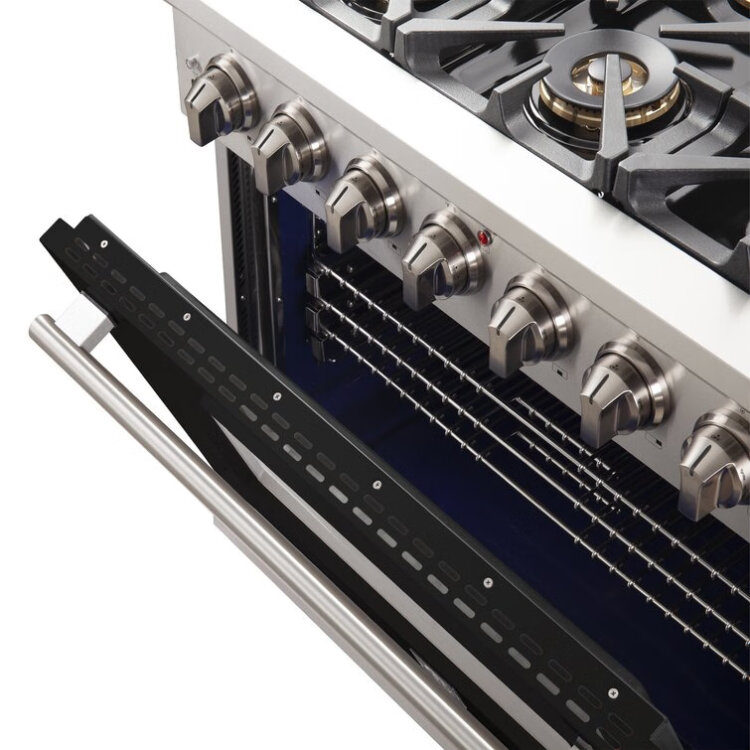 Payment & Security
Payment methods
Your payment information is processed securely. We do not store credit card details nor have access to your credit card information.
---
Security